Yes, I Hate Riding on an Indoor Trainer
I think with the New Year here, we all have resolutions or goals of greatness. For me, I'm working towards my first century ride. I've been pretty close with hitting 77 miles. To make it this year I'll need to adjust two items; the first is mindset and the second is training. In the past I've held off on training because I waited for the weather. 
Enter Zwift… 
To Train, or Not to Train
I'm not a big fan of training indoors, unless it's rock climbing. I much prefer being outside with the elements and fresh air. But, if the challenge is that I really want to complete my MS Tour de Farms Century then something has to change, and it did. I've tried to use a trainer/rollers in the past and it was okay, I watched a movie or listened to music and tried intervals to break it up. I also tried the SpinIntervals, it was OK it just didn't connect with me. Then I saw Zwift and started thinking "hey, maybe this might be what I need to help get training in this winter." Then I read an article in Bicycling Mag where they talked about REALLY enjoying Zwift, and it didn't seem like Advertorial, but you never know. Either way, I was ready to try.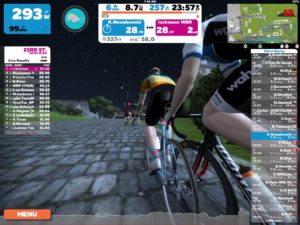 How Does Zwift Work?
I checked out the website (
www.Zwift.com
) and it seemed pretty straight forward, or not… It's straight-forward if you want to lay down $1,200 for the super-duper-blah-blah-blah version, which isn't in the budget. I started reading different options and it got a bit confusing.
Here's my Zwift simplified version.
If it doesn't work, feel free to message me and I'll help out. 
Purchase the Wahoo Speed and Cadence Sensor Pack from www.REI.com or www.performancebike.com
Install bike on your trainer 

I have a somewhat "smart" trainer, Elite Qubo Power Fluid Smart B+ Trainer
It has a sensor installed and it talks to Zwift, but doesn't seem to be required
(I'd try your existing trainer first with the Wahoo Sensors to save some dough)

Attach Cadence Sensor to your bike to your crank arm per directions
It doesn't seem to require a specific location 
Set the Power Meter to your specific trainer. 
Create a Zwift Account. 
The Trainer I purchased had a free month included. 
Get on bike, pedal to wake up sensors.
Zwift will ask / confirm your sensors.
Make sure they're set for the Wahoo Sensors
Pick a "Workout" — I usually go with "Just Ride"
Pick a Route. I chose mountains, and whoa, that was tough — for me.
Have fun
Extra Tips
I use the iPad to keep it simple and it sits on a reading stand I also purchased at Performance Bikes for $20
Tap the screen while riding and a series of blue buttons appear along the bottom of the screen. 
These buttons allow you to take screen shots along the way and to also change your "camera" views.
More tips coming soon. 
Get out there, or better yet, get indoors and start Zwifting !!
Trainer
Wahoo Sensors
Interested in trying a long distance group ride? Join our Tour de Farms Team/Group 
Don't want to ride with us? How about a donation to our Team and support MS Research. Click Here